High Plains Elementary 5-Week Speed & Agility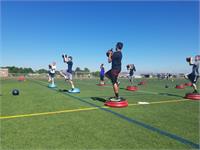 The FAST LAB 5 Week Speed & Agility Class – High Plans students in 1st through 5th grades participate in drills and exercises that focus on body awareness as well as balance and coordination; while also teaching proper run mechanics and strengthening the key muscles necessary to achieve top speed.$90/Session. 10% Sibling Discount is offered for second child registering.
Schedule:
Check below for current schedule for Fall & Spring.
Location:
High Plains Elementary School Field
6100 S Fulton St
Greenwood Village, CO 80111
Cost:
5-Week Session Cost: $90 for first child, $81 (10% off) each for siblings.
Please contact Gerry (Gerry@thefastlab.com) for more information or call The FAST Lab at 303-771-3329.
---